Are you sitting up to straight?
Yes, that's right. Sitting up to straight and constantly over correcting your spine can be the source of all your back pain. Have you ever wondered why sitting up straight causes you pain? Basically over straightening the middle of your spine is one of the worst things you could be doing for back and upper body pain in the body.
Constantly,I am finding people are dramatically over straightening the middle of their backs when sitting. Most of these people have been taught its good posture, in fact it is actually the source of most of their pain. Once our body looses its natural thoracic curve in the spine, we loose correct hip alignment and loose our ability to breath through our belly. All these movements are vital in keeping our mobility and keeping us pain free.
over straightening the middle of your spine is one of the worst things you could be doing for back and upper body pain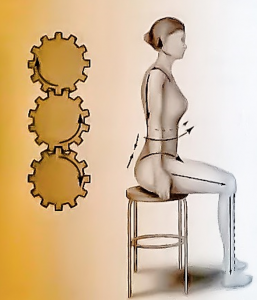 Remember the spine always need its curves, these are the cushions for movement
Above is optimal curve for ease of movement
A slight curve without dramatically slouching or sitting too straight is optimal
Joanne Paine
Healthy Balance Massage therapy